Recently, a friend gave me a big stack of women's magazines to read as a way to pass the time.
I got a
Family Circle
, a
Woman's World Weekly,
and a
Woman's Day.
Each was replete with helpful hints, inspiring articles, and tips aimed toward making me a better woman:
"Remake your shape in six easy moves"
"The No-Time-To-Clean Cleaning Guide"
"Slow Cooker Recipes for a Mom on the Go!"
And my personal favourite
"How Not to Feel Like a Stuffed Turkey this Thanksgiving."
It's interesting when you start paying attention to the ways in which women are marketed.
At present, I find myself in an age bracket where the powers that be want to sell me things like Tide, Swiffer Wet Jet Mops, Lavender Scented Pine Sol, and Dove Pro Age.
A time where people assume I'm more interested in "The Top Five Ways to Spice up a Pound cake,"than the Top Five Ways to Spice up my Man."
A time I like to think of as: The "Over Forty Zone."
You'll know you're there when your hair goes gray every four to six weeks, you prefer taking a bubble bath on a Saturday night over going to the club, and that strange crackling sound you hear isn't coming from an open fire, but rather your knees as you bend to pick something up.
And people begin to call you Ma'am.
***
The world of women's magazines assumes we're all on a quest to look younger, be thinner, and cook the perfect souffle.
All in a desperate attempt to please...
Who?
***
I was at the pool the other morning, listening to the conversations going on around me.
What do you think women talk about most?
Start to pay attention and listen when women get together.
Then go a step further and try to stay out of a conversation about weight.
Seriously, give it a try.
Because I'm here to tell you, it won't be easy.
And why would it be?
I went onto Google Images tonight and grabbed a random sampling of recent Women's magazine covers.
Just once I'd like to see a magazine marketed for the ma'ams and the moms of the world not have a big slab of cake on the cover followed by the latest diet.
You think I'm making this stuff up?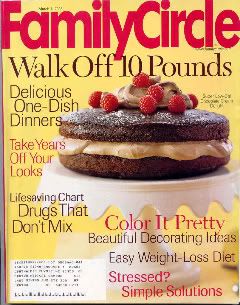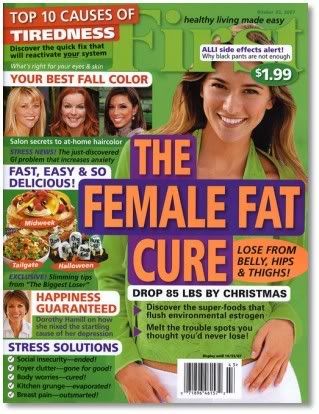 This was just a randomn sample of the hundreds of magazines I perused.
From Cosmo to Woman's World Weekly, every cover had a weight loss component, a "look younger" component (in the teen magazines it was a "clear skin" component) and a "how to keep him satisfied" component.
With the exception of magazines aimed at the Ma'ams.
Between Cosmo and Woman's Day there is a transition.
Where we were once wowing him in bed, we're now wowing him with cheesecake.
As opposed to wowing OURSELVES with the indesputable evidence of our power, intelligence, capability, and the right to choose all things that are in our best interest.
Towanda.
And me, I just keep fighting the good fight.
Encouraging women to follow their own bliss and not subscribe to the status quo.
Whether that be driving a race car or baking really good bread.
At the end of the day, none of us will be remembered for the way we looked. Rather, we will be remembered for the way we made people feel. And the better we feel about ourselves, the better our connections to others.
Eat, love, live laugh.
Take some risks.
And don't pay attention to anything or anyone who implies you are something less because of the way you dress, the way you look, or the way you express yourself.
Beauty is confidence.
And that's the blog.