Happy Easter to all who observe today's holiday - and to everyone else, Happy Sunday!!
Today's blog is being included in Cookbook Sunday's. Be sure to hop on over to my good friend Sue's blog to see more delicious cookbook recommendations!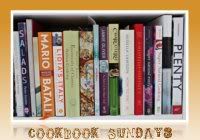 ***
I am such a believer in "home as sanctuary"and rituals like Sunday dinner.
In this crazy, fast paced world, I think we should try not to lose sight of the importance of being among people with whom we feel totally at ease.
People who accept us exactly as we are and who we accept back in the same way.
Our forefathers (and mothers) had it right in so many ways and gathering with our people - whether they be family by blood or by choice at week's end - provides spiritual and emotional fortification for the week ahead.
And what better for such a gathering than beautiful, lean, boneless turkey breasts breaded with toasted almonds and Panko breadcrumbs then drizzled with an almond gravy?
This is another wonderful recipe from
Cuisine Lite
and I have to say, the toasted almonds in the coating and the gravy put this meal right over the top. This was so tasty and so comforting I know I'm not only going to crave this meal often, it's going into my repertoire for Fall and Winter when the urge to hibernate sets in.
Next Fall I will be approaching the "season of comfort" armed with recipes like this - and my running shoes on.
With that in mind, get prepared everyone!
Starting Monday we are going to be doing some spring cleaning - which means lighter recipes, health challenges, and a whole lot of TOWANDA for any and all who are willing to get up and get moving!
As well, stay tuned for my Recipe of the Month, our next installment of
Cherry Hill
- wherebye our plucky heroine Amanda gets chased around the buffet table by a certain Mr. Wilson, more how to videos and recipes, and - of course - our ongoing blogudramedy
"How a Pork Tenderloin Saved My Life."
- a fun glimpse into the life and times of a would be food network star star turned food contest afficiando.
Until next time everyone!
Be well.
Be happy.
And embrace the magic... it really is everywhere.
xoxo
Almond Crusted Turkey and Herbed Mashed Potatoes
Calories: 299, 13 g total fat, serves 4
For printable recipe click HERE
Ingredients
for the Turkey
1/3 cup toasted slivered almonds
3 Tbsp panko breadcrumbs
1/2 tsp each kosher salt, black pepper
4 boneless turkey breast steaks
2 Tbsp olive oil
Ingredients for the Almond Gravy
1/4 cup dry sherry
4 tsp all purpose flour
1 cup low sodium chicken broth
1 Tbsp unsalted butter
1/4 cup toasted slivered almonds
Chopped fresh parsely
Directions
Preheat oven to 250
Pulse 1/3 cup of toasted almonds in a mini food processor or coffee grinder until finely ground. Dredge turkey breasts in almond mixture.
Heat oil in a saute pan over medium high heat, 2 minutes. Saute tenderloins until golden (about 5 minutes) Flip and saute until meat registers 165 on an instant read thermometer, 5-8 minutes more. Remove turkey from pan, transfer to a baking sheet, and keep warm in the oven.
Whisk sherry and flour together to form a slurry. Return pan to stovetop over medium high heat.
Deglaze pan with broth, scraping up brown bits from the bottom. Stir in slurry, whisking constantly to prevent lumps. Boil 1 minute to eliminate flour taste, then simmer to thicken slightly. Stir in butter until melted, then add 1/4 cup of almonds and parsley.
Per serving:
299 cal; 13 g total fat
Herbed Mashed Potatoes
Ingredients
6 red medium skinned potatoes scrubbed and quartered
2 Tbsp low fat cream cheese
2 Tbsp snipped fresh chives
1 clove minced garlic
1/2 Tbsp creamy horseradish
pinch of kosher salt to taste
black pepper to taste
Directions
Boil potatoes until tender
Mash and add the rest of the ingredients. Adjust seasonings to taste.